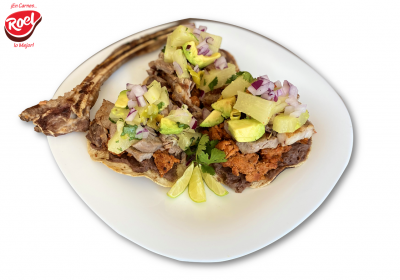 Instructions
On a grill or frying pan previously heated over low heat, add the Roast Beef Roel chop, previously seasoned (salt and pepper suggestion), turn the chop approximately every 3 minutes, depending on the thickness of your cut, without letting the juice release and wait the cooking point of your preference, at the same time you can cook the Roel homemade longaniza using the same cooking method as the chop.
On a grill or frying pan we make our toast, then we spread the beans on it and place the chopped Roast Beef chop along with the longaniza.
Finally we decorate with guacamole and pico de gallo. Delicious recipe. Enjoy!
Ingredients
1kg ROEL Homemade Longaniza
1kg ROEL Roast Beef Chop
1/2 kg tortillas style Chalupa
1 cup Refried beans
Guacamole
Pico de gallo