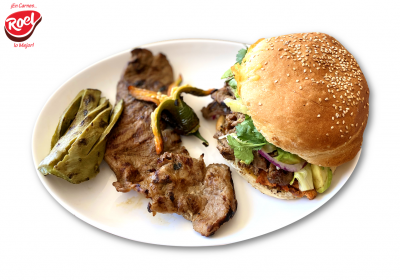 Instructions
For the guacamole we add sliced ​​onion, the avocado cut into squares, the cut habanero peppers (previously roasted), lemon juice to taste, chopped cilantro and as a recommendation olive oil and pipicha. (salt to taste).
In a grill or frying pan over high heat, fry or roast the Roel cecina and the Roel Homemade longaniza to the desired finish, cut the cecina into strips and reserve.
We open the cemita in half and put Manchego cheese on the lid, take and heat until the cheese is melted and let it broil on both sides of the lid.
At the base of the cemita we spread the ground beans, fill with cecina and longaniza, accompany with the guacamole. All is ready! enjoy some delicious homemade cemitas.
Ingredients
1kg ROEL Cecina
500grs ROEL Homemade Longaniza
5 pcs Cemitan Bread
250grs Manchego Cheese
Avocado
Onion
Habanero pepper
Refried beans
Lemons
Cilandro or Pipicha
Salt to taste